New 7" split with BrompTreb!
A: Horaflora - glibbertonne
B: BrompTreb - readinessmax
Both sides are rollicking, rolling, experiments in beat manipulation that compliment each other through a rhythmic wormhole that cannot be explained in words, and even the sound of said wormhole itself is quite difficult to grasp full hold of!
BrompTreb spins his reels of ragga-esque drum treachery through a broken meter bound in noise-tape lashings and a gruff patios calling for a true readiness on the part of all comers, dance on a wobble-leg of doubt and you'll surely fall to the fire!
Horaflora revs up the rolls for a twisting digital escapade, only to settle in for a tripping, lunging, lurch throughout the gearshift continuum that takes in auxiliary debris through the grill and sifts it into a fine mist and back out the trunk before a final cliffside donut sees him drift away down unknown lanes...
Fabulous sleeve designed by Sightlab that sees both artists rendered in a curious (player) piano-roll/IBM punchcard font that's been laser cut into the sleeve, offered sweet relief by individually selected pages of national geographic inserted behind the front cover and custom made rubber stamped release info: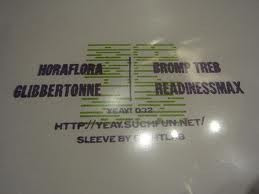 Grip this From Horaflora or BrompTreb (west and east coast)
http://horaflora.bandcamp.com/album/horaflora-bromptreb-7-split
http://yeay.suchfun.net/catalog.html
Sightlab: http://www.sightlab.com/
Location:40th St,Oakland,United States